7 August 2020 | Phillip Lord
"One of the world's most distinctive wine styles"!
Once upon a time, at Michael Hall Wines, we were well travelled. Itinerant winemaker and cellarhands, globetrotting vintages and an exuberant, unconstrained, equitable consumption of wines from all parts! Today, in the bold, new (confined) world we indulge in the virtual travel of wine, more than ever delving into our cellars for regular get-togethers and casual knock-offs.

Virtual or actual, we are regularly reminded that a cornerstone of the modern international wine world is Barossa Shiraz. To quote Hugh Johnson and Jancis Robinson, Barossa Shiraz is "one of the world's most distinctive wine styles" (World Atlas of Wine, 7th edition). Ranging from "unctuously alcoholic elixirs to a more modern idea: …showcasing the valley's many different terroirs."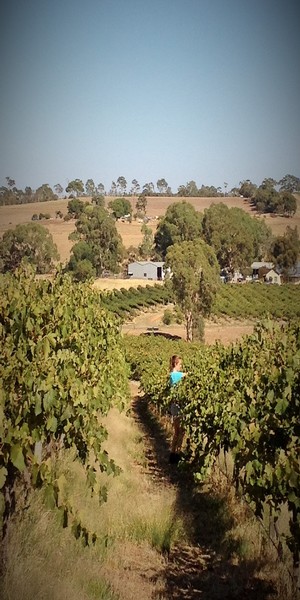 The Triangle Block, Stone Well
Our latest Sang de Pigeon Barossa Shiraz 2017 leans heavily on these great terroirs, principally from the subregions Stone Well, Greenock and Flaxman's Valley. Showing great energy and vibrancy this release is surely the most scented and evocative to date. Take yourself there!
2017 Sang de Pigeon Shiraz, Barossa Valley RRP $30

Hand-picked in Stone Well, Greenock and Flaxman's Valley, wild fermented in open fermenter and closed puncheons, 5% whole bunch, matured in French oak barrels for 21 months (10% new). The 2017 release shows great energy and vibrancy with high-toned black fruit, rose water, mandarin, a hint of sarsaparilla, black tea and dry, spicy tannin.

"Fruit takes the front seat here, blackcurrants, note of red fruit and a dusting of cinnamon spice. Medium bodied, smooth and loaded with velvety tannin. Nothing overdone or out of place."
95/100 Drink to 2027. Halliday Wine Companion 2020
---
The story of vintage part three: Whole-bunch fermentation
Some of us wine geeks pay homage to ancestral techniques and ferment a part or all of a wine as whole bunches. We achieve this by stuffing the hand-picked fruit into a barrel, closing it up and leaving the wine to ferment.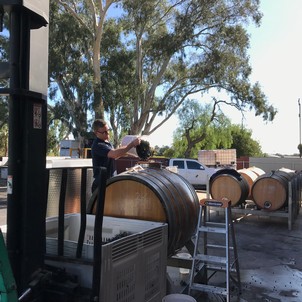 Callum filling the foudre with shiraz for whole-bunch fermentation.
The action of yeast and alcohol on stems releases additional tannin (the mouth-drying stuff) and a sappy, vegetal character. But whole-bunch fermentation isn't merely a mouth-feel thing. It allows for a process to take place within the berry, without exposure to air, known as carbonic maceration that generates its own unique red-fruited qualities. Its not all hands off during fermentation as the barrels require regular agitation in the form of a 'daily spin'.
To spin the 800L foudre, its all hands on deck.
In our Adelaide Hills Lenswood Pinot Noir we employ large-format rotating barrels for whole-bunch fermentations, offering the possibility of very long maceration without the risk of spoilage. These portions are 100% whole-bunch and they are matured separately from the destemmed ferments, allowing us to blend according to the character of the final matured wine. In our Shiraz and Syrah wines out of the Barossa we use smaller portions to contribute freshness to the finished wine. Tannin in Shiraz is rarely in short supply but the vegetal, sappy character can act as a mouth-watering counterpoint to the plush blackberry and plum notes of Barossa Shiraz.
At the end of ferment the barrels are drained of wine, while the skins and stems are removed and pressed.
The key here is judicious use, to address individual varietal, vineyard and vintage conditions. Whole-bunch fermentation, used with a heavy hand, can create a clumsy, astringent wine more reminiscent of leaf mulch than grape berries! But it can also bring an element of freshness and moreishness that transcends the merely satisfying and delivers the utterly delicious.
If only we could empty each barrel this quickly!.
Please ask us any questions about all things grapey. We'd love to hear from you at info@michaelhallwines.com. Follow stage four of our journey in the next newsletter.

Look out for our videos and stories through our social media channels and give us a wave. Stay safe and keep well.

Phillip