26 March 2020 | Phillip Lord
A letter to our friends and family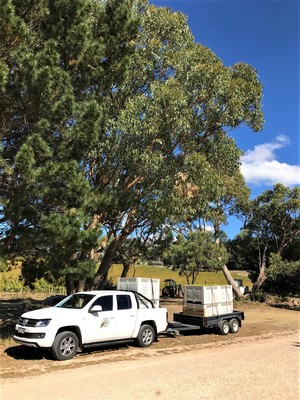 Dear drinker, wine lover, enthusiast and fellow Wine Nerd alike,

A few days ago I was driving back from the Adelaide Hills with a precious cargo of Chardonnay grapes. I stopped outside the chemist, as you do, in an unsuccessful attempt to buy a thermometer. Outside I saw the smiling face of Dan Standish and he introduced me to the short-lived elbow greeting. We discussed the new-look world, the almost complete shutdown of the hospitality industry and the overnight loss of our principal outlet. It's a more solitary world right now, we're all feeling it and we send our love to our friends and family. We miss you in the tasting room!

But as winemakers do, Dan and I also had a moment to reflect on the extraordinary perfume of this year's reds. Partial eclipse, may last awhile, but the sun will shine again!

On the bright side we don't yet know where the Covid crisis will take us but we'll learn some invaluable lessons. One of those may be that there's no excuse for inaction. I'm hoping it will break the cycle of inertia that's made governments so reactionary to climate change. As a winemaker I know the effect that rising temperatures are having on grapes and wine styles. Perhaps I'm dreaming but there's so much opportunity in new technology and we can build a future without that dark cloud hanging over us.

Another is that wine may not be essential, but it's a whole lot more fun than being stuck at home without any. Get some! And to ensure that you do here's the Michael Hall Wines Inessential Action Plan!

What we will do:
Make compelling wines
Continue our support of growers and trade friends through timely payments and services
Keep up the news of our labours and our delicious vinous creations through socials and newsletters
Support you with free shipping on all orders of 6 bottles or more until restaurants, bars and cafes are back in business again and the pandemic recedes.
What we won't do:
Sneeze in your wine delivery
Hold a non-essential gathering of Wine Nerds (temporarily closed for tastings but open for bottle sales)
Hoard all of the Pinot/toilet roll
As Tom Waits once sang "things are tough all over", so pour a glass of wine...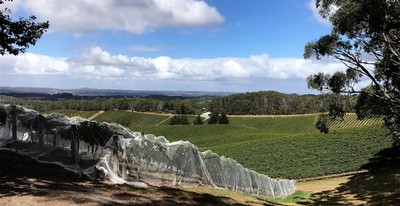 Pinot Noir: The resplendent Mawson Road Vineyard, Lenswood, Adelaide Hills
*New release alert*
2018 Michael Hall Adelaide Hills Pinot Noir, Lenswood

Forget the corkscrew in your isolation kit, this one is under screwcap and available to be delivered to your door.

"Sour cherry, sarsaparilla, green herbs in the bouquet. The palate is great, really juicy, vibrant, light crunch to tannins and feels kind of bulbous but super pleasing as it sloshes around the mouth. Such a delicious drink, feels immediately compelling and just so darn yum."
Mike Bennie, The Wine Front on the Michael Hall Pinot Noir, Lenswood 2018.



Michael Hall Adelaide Hills Pinot Noir, Lenswood 2018 $50

As ever the vineyard is the hero. That magic, majestic terroir being the real star of the show, sitting on sandy loam over clay for the geologists in the audience. With a steep south-westerly aspect the Mawson Road Vineyard in Lenswood has an average elevation of 530m. It's planted to four of the classic Pinot Noir clones (777, 114, 115, MV6), each one having their own special and unique characteristics. This combination of ultra-cool site and clonal diversity offers us the tools we need to craft a wine of great drive and complexity.

Hand-picked on 9 and 12 March, wild yeast fermented in open fermenter and closed puncheons, 61% whole bunch, matured for 11 months in French oak (35% new). Unfined. Sandalwood, pomegranate, rosehip, fenugreek, shea butter.

13.6% alc/vol. 1480 bottles produced.
Introducing our Stagiaire for 2020… Callum.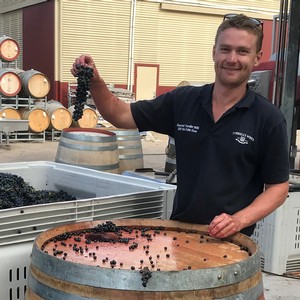 Barossa born, bred and a recent graduate of Viticulture & Oenology at the University of Adelaide, Callum is ready to start crafting our 2020's. With vintage experience garnered at Domaine Jean-Louis Chave in France and at Tyrrell's in the Hunter Valley, Callum is an exciting addition to the team. When the hard graft of the day is over he's busily getting to work on his solo project Agricola, keep your eyes peeled for these wines in the future.
2020 People's Pick - Trade edition!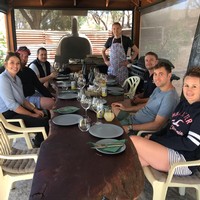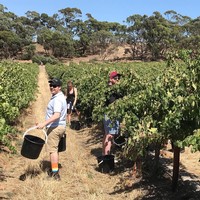 With a twist on our usual People's Pick we invited some of our trade customers up from Adelaide to play their part in vintage 2020 with a pick of Stone Well Shiraz.

With empty stomachs and full buckets of Shiraz we headed up for a well-earned lunch overlooking the vineyard, washed down with some new release reds.

The hand-picked fruit was promptly stuffed into barrel by Callum, whole-bunch, stems and all. We'd like to thank 2KW, Orana & Melbourne St Cellars for their sterling efforts!
Bushfire Appeal Dinner in the Barossa


On Friday 31 Jan Michael Hall Wines and Rieslingfreak co-hosted a long-table fundraiser dinner, cooked by the boys, in support of the Adelaide Hills Wine Region Fire Appeal.

With Porchetta on the spit and one long table, wine and conversation flowed. Before commencing with dessert we held an auction with magnums of 2019 Rieslingfreak No.2 Polish Hill River and 2016 Michael Hall Adelaide Hills Syrah, Mount Torrens up for grabs. The Mount Torrens wine holds special significance to us as this vineyard was devastated in the fire. With ticket proceeds and auction we proudly raised $2150 for the appeal. We would like to thank all our guests, both trade and consumer, for a fantastic night.

Two small producers and 17 lovely locals having fun supporting a cause!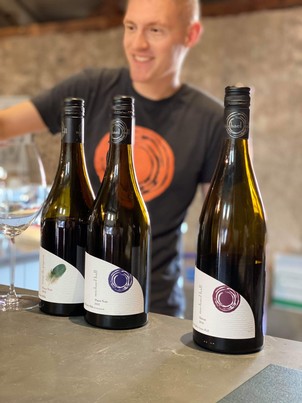 Despite the madness of vintage and our mind wandering to ferments, barrels and hand sanitiser, we still want to share stories and wine! Border closures, home isolation and government restrictions may stop you visiting us but wherever you are in Australia jump online. You may not be able to eat out but you can drink great wine. 6 or more and it's free to your door!

Please keep in touch, look out for our socials. We wish you well,

Michael and Phillip
Phillip's mb 0448 911 835
Email info@michaelhallwines.com
Adelaide Hills – Barossa Valley – Eden Valley

Tasting room at 103 Langmeil Road, Tanunda SA 5352 – Open for sales but temporarily closed for tastings