29 December 2019 | Michael Hall
Fire in the Hills
If you've ever been in the vicinity of an uncontrolled bush fire you'll know the fear and immensity of that approaching heat.

Like all natural disasters it's massively out of scale to our daily toil. It brings random devastation across our fragile infrastructure and can instantly eclipse the lives of individuals. Those superhuman, adrenaline-fuelled efforts to defend property and livelihoods are closely followed by exhaustion and the brutal imperative to rebuild.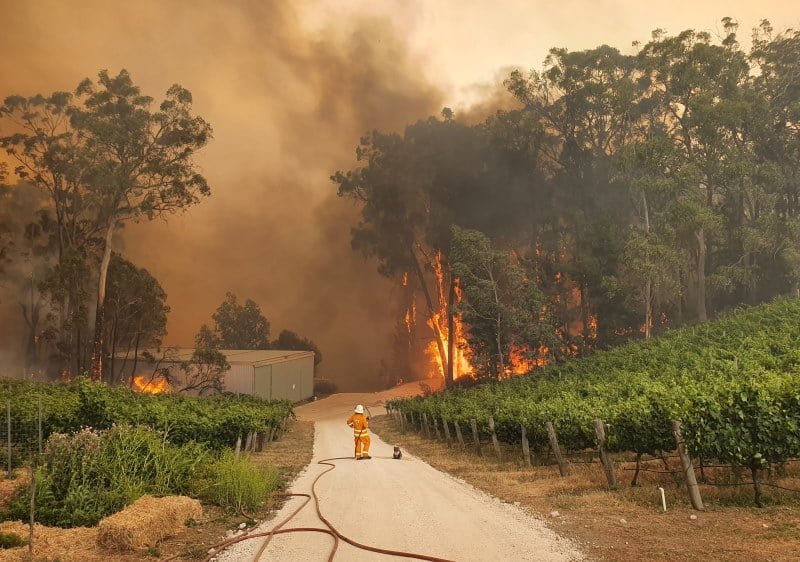 Approaching fire, Friday 20 December (Facebook: Eden Hills Country Fire Service)
Last weekend we experienced a massive fire in the Adelaide Hills starting in Cudlee Creek and covering an area of some 25,000 hectares before winds abated and there was some respite. On Monday I contacted and visited some of our growers and saw firsthand the enormity of the work needed to rebuild. On the way there I pulled up behind a seemingly abandoned ute in the middle of the road. I stopped to investigate and found an exhausted ash-smeared farmer sound asleep at the wheel. After waking him he continued on his way, hopefully with a home to go to.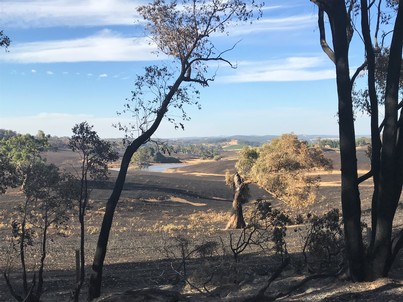 Across Kenton Valley, Monday 23 December
Ben's block sits right on the perimeter of the Lenswood fire zone and unlike some less fortunate neighbours he was able to save much of his vineyard but lost most of the vulnerable irrigation infrastructure. Through his efforts his house and shed were saved and, when I visited, he and Clare had already replaced much of the irrigation lines and welcomed me with an undeserved beer.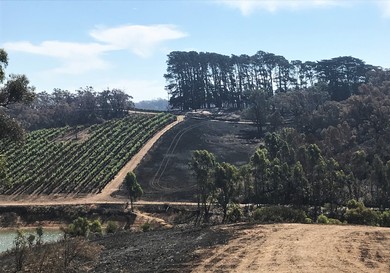 The road to recovery, Thursday 26 December
Earlier in December I'd visited a vineyard in Kenton Valley and persuaded the grower Charles to sell me some of his valuable Chardonnay grapes for the 2020 vintage. On Friday night his vineyard was sitting right in the path of the fire and Charles may lose much or all of his crop. But by replacing the irrigation there was every chance he could save the vines. I volunteered to help his vineyard team and spent Boxing Day with them capping off their extraordinary 6-day marathon to replace their entire irrigation network above ground. When I left that evening the whole vineyard was being watered, the first step to recovery…

The Adelaide Hills Wine Region has set up a Fire Appeal to help "local growers...and fund immediate recovery efforts". They are now accepting online donations. Please click on the link below to donate where you can.

Donate Here
Wishing you all a safe New Year,
Michael