5 May 2020 | Michael Hall
Nerd alert! "The greatest dry white wine grape in the world"
During my early years, working as an apprentice winemaker, my pursuit of Chardonnay knew no limits: An unpaid but precious experience at Giaconda, my first vintage at Coldstream Hills and BBQs with James Halliday, initiation to biodynamics with Vanya Cullen in Margaret River, vintage pilgrimage to Europe with Burgundian superstar Domaine Leflaive, and my introduction to the terroirs of the Adelaide Hills through vintage at Shaw and Smith.

In Jancis Robinson's words, Chardonnay is "equally capable of extreme mediocrity and regal splendour".

Don't settle for mediocrity.

Great Chardonnay chronicles a journey from citrus, peaches and tropical fruits, through tea, rose petals and raspberries, to almond meal, vanilla, cashews and beyond. Plant Chardonnay in a warm place, pour on lots of water, and it will happily give you lots of mediocre wine. Plant it in a cool place on sparse, mineral soil, in the lap of a benign geography and it will grudgingly take you to nirvana!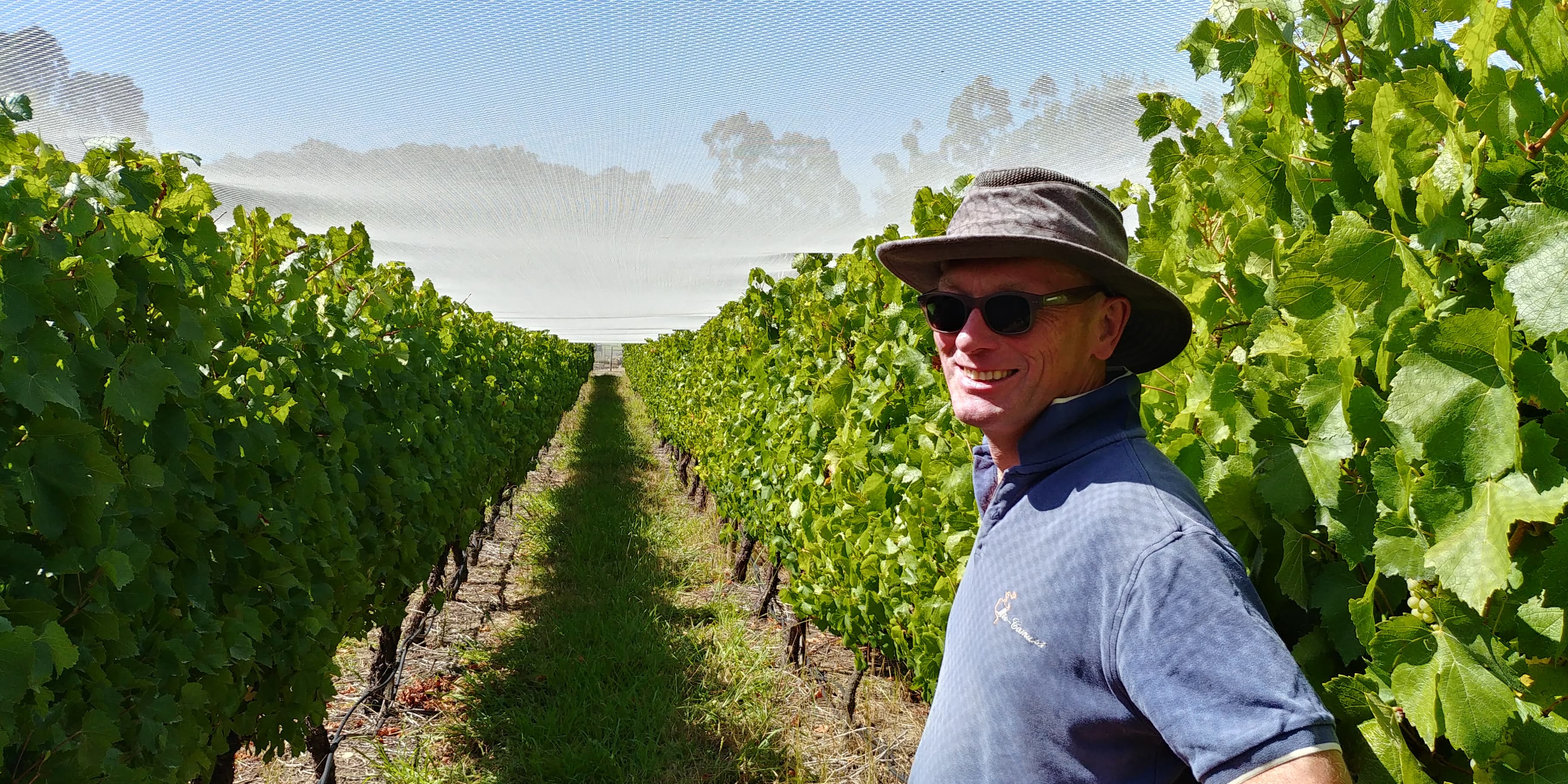 Under the netting in Bernie Swaby's vineyard, Adelaide Hills.
One such cool place is Bernie Swaby's vineyard on the back of Mount Lofty in Piccadilly. At just over 500 meters altitude it benefits from westerlies cooled as they pass over Mount Lofty. It lies next to the Mount Lofty Botanical Gardens, a refuge for temperate plants and trees found only in the coolest reaches of Australia.

Today we're releasing our 14th vintage from Bernie's vineyard, the Michael Hall Chardonnay 2018. Hand-picked, wild yeast fermented, matured for 12 months in French oak barrels. With only 170 dozen produced, this is a Chardonnay not to be missed.
"Light to medium-yellow colour, with a rich cashew nut and creamy lees aroma which is fresh and young, the palate light and lean and energetic. Some oatmeal and spicy oak notes. Medium-long finish. A wine of appealing detail"
Huon Hooke, The Real Review
The story of vintage: Part 2

In part one we discussed the first stages of white wine making. Red wines are made by fermenting the whole berry to extract colour, flavour and tannin. Millions of yeast cells convert sugars from the juice into alcohol, releasing carbon dioxide which carries the grape skins to the surface, forming a "cap". It is vital that this cap is submerged regularly to extract flavour, colour and tannin, and to avoid oxidation which would otherwise result in vinegar. We attack this task twice daily and use a variety of techniques depending on the grape, the stage of ferment and the desired result.
To plunge or not to plunge?
The simplest cap management technique, and one of the best, is plunging or pigeage. It's also the most labour intensive. The cap is submerged either by foot-treading (cue pastoral visions of medieval vignerons at work) or with a handheld stainless steel ram. It's gentle on the grape skins and introduces very little oxygen, perfect for Pinot Noir or Grenache. Here Phillip is plunging our 2020 Pinot Noir from Piccadilly.
The Pump over

The most common approach to cap management in premium red ferments is the pump over or remontage. It involves pumping the juice from the bottom of the tank over the top and irrigating the cap. This vigorous and oxidative approach is efficient for open fermenters and beneficial for reductive varieties like Shiraz and Mataro.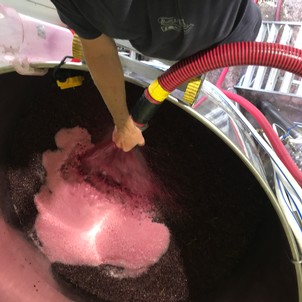 Rack & Return
To really slosh the ferment around the rack and return, or delestage, is the complete package. The ferment is drained of juice into a neighbouring tank, leaving behind just the grapes, skins and seeds, before the juice is pumped back over the top for a complete airing of the whole ferment.
A rack & return of Eden Valley Syrah
Follow our vinous journey in our next newsletter where we delve into the spicy, aromatic world of whole-bunch fermentation!

Please continue to ask any questions about all things grapey. We love hearing from you at info@michaelhallwines.com.

Look out for our videos and stories through our social media channels and give us a wave. Stay safe, keep well and enjoy the Chardonnay!

Michael