16 April 2020 | Phillip Lord
You don't have to sell your body to the night...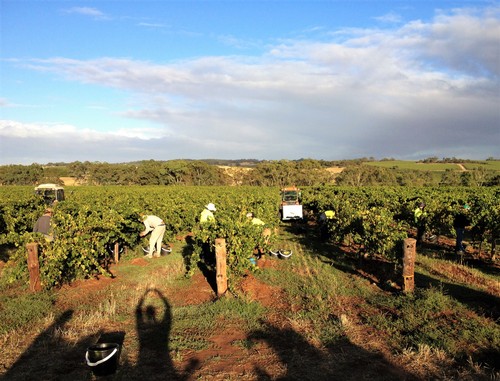 "Roussssannnee,
You don't have to put on the red light
Those days are over
You don't have to sell your body to the night

Textural, chewy, slippery wine. Packs in lots of flavour, white flesh pear, some quince, good candied citrus character and a very faint marzipan note and finishes puckering and beautifully chalky. There is plenty going on here, lots to enjoy, interesting and delicious. Great stuff."
Mike Bennie, The Wine Front

2018 Michael Hall Barossa Valley Roussanne, Greenock
Grown at the Milky Hill vineyard in Greenock. Hand-picked on 13 March, wild yeast barrel fermented, eight months on lees, fined, filtered and bottled. 1470 bottles produced.

With the temporary closure of restaurants and bars, during the remainder of April we're offering you 10% off the Michael Hall Barossa Valley Roussanne. Enter promo code: SUNSHINE at checkout to redeem.
---
Yesterday, after a long day in the cellar and four weeks practising near-isolation, Michael asked me what wines I'd been stockpiling… along with the baked beans and toilet roll.

I drink widely but during this time of social distancing the connection with humble growers and small producers, passion and individuality, is paramount. The last four wild months, from bushfires to pandemic, have made us focus even more on what we love about what we do.

Part of that is connection with people and we miss conversation and contact with our customers in our tasting room. But through email we can still share our enthusiasm for wine, nerdy bits and all. So the next series of newsletters will take you behind the scenes in the winery, and give you a virtual experience of vintage. A box-office view of the graft that goes into the glass!

Stage one: Harvest and grape receival.
With nearly all of our vineyards picked by hand it's a rarity that we get to play with the new generation of machine pickers. Here, however, Michael is taking in the great views from the top of a shiny new Pellenc harvester/destemmer in the Adelaide Hills. Not only does this smart bit of kit pluck the berries from the vine, it also has a sorter/conveyor that separates the fruit from the MOG (Material Other than Grapes) leaving us with a picking bin full of the good stuff.
Red wines are made by fermenting the whole berry, skins, pulp, seeds and all. The juice itself is colourless so the process extracts colour from the skins along with essential tannin and "structure". White wines are generally made by pressing the grapes immediately after picking and only the juice is fermented.
Tipping whole-bunch Roussanne into a pneumatic bag press.
The vast majority of white wines are fermented in tank to retain aromatics. Unusually most of ours are fermented in barrel and matured on yeast lees in order to introduce an element of texture or "mouthfeel". It's a more hands-on process and involves a much longer period of maturation but we love the soft and velvety character of the resulting wines.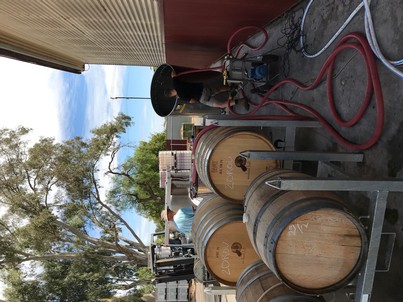 Transferring the white juice into barrel for fermentation
During fermentation we keep an eye on the wines through the daily Baumé rounds. Here I'm tracking the progress of our 2020 Sauvignon Blanc with a detailed explanation from Michael.
Please ask us any questions about all things grapey. We'd love to hear from you at info@michaelhallwines.com. Follow stage two of our journey in the next newsletter.

Look out for our videos and stories through our social media channels and give us a wave. Stay safe and keep well.

Phillip